How to purchase ETH with a credit card
ETH (or Ether) is the cryptocurrency of the Ethereum network. Each network (or blockchain) has its own unique currency that is used to facilitate transactions between the community – just like a traditional currency. ETH will be used to purchase assets from different games, initiate actions on those games, and generally interact with the Ethereum network. Thankfully, Dapper makes getting ETH quite easy!
We offer a few options right within Dapper to purchase ETH. MoonPay and Simplex allow you to purchase ETH with a credit card. You can also manually get ETH transferred by a friend or a cryptocurrency exchange using your wallet address. You can find these options when you click on "Get ETH" in Dapper.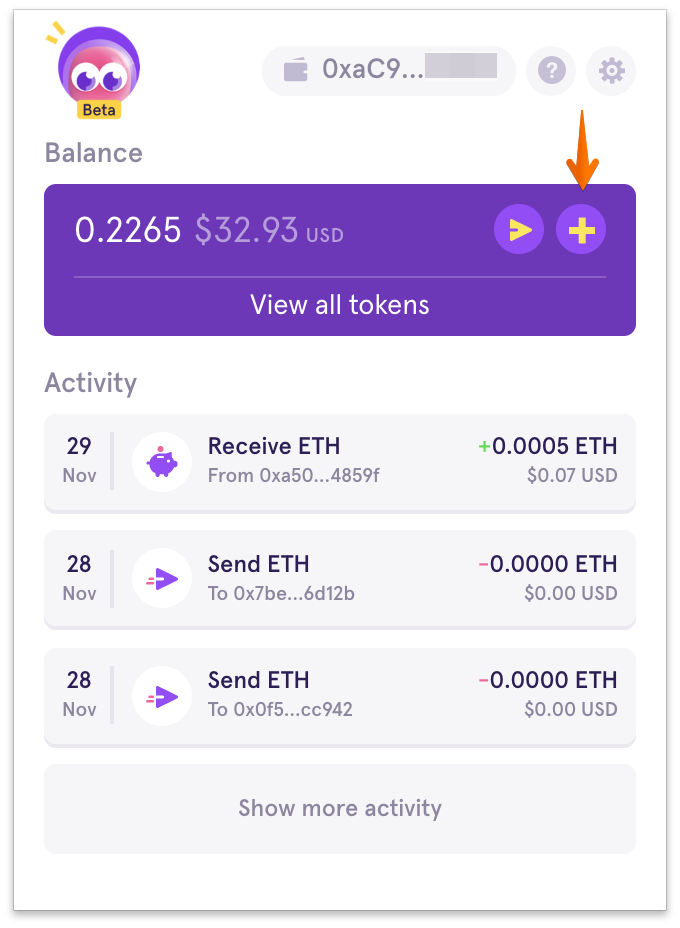 Getting ETH with MoonPay
MoonPay can be used to purchase ETH with USD, GBP, or EUR. There is a minimum purchase of $20 and charges of either 4.5% per transaction or a $4.99 minimum fee. This is not an additional fee but instead is taken from the purchase total. For example, if you purchase $20 worth of ETH, you will receive a total amount of ETH equaling $16.99. You will need to make an account with MoonPay before you complete your purchase but the account can be created right on the transaction page. You can read more about how MoonPay works, including supported regions, here. You may also contact their support for any troubleshooting at hello@moonpay.io.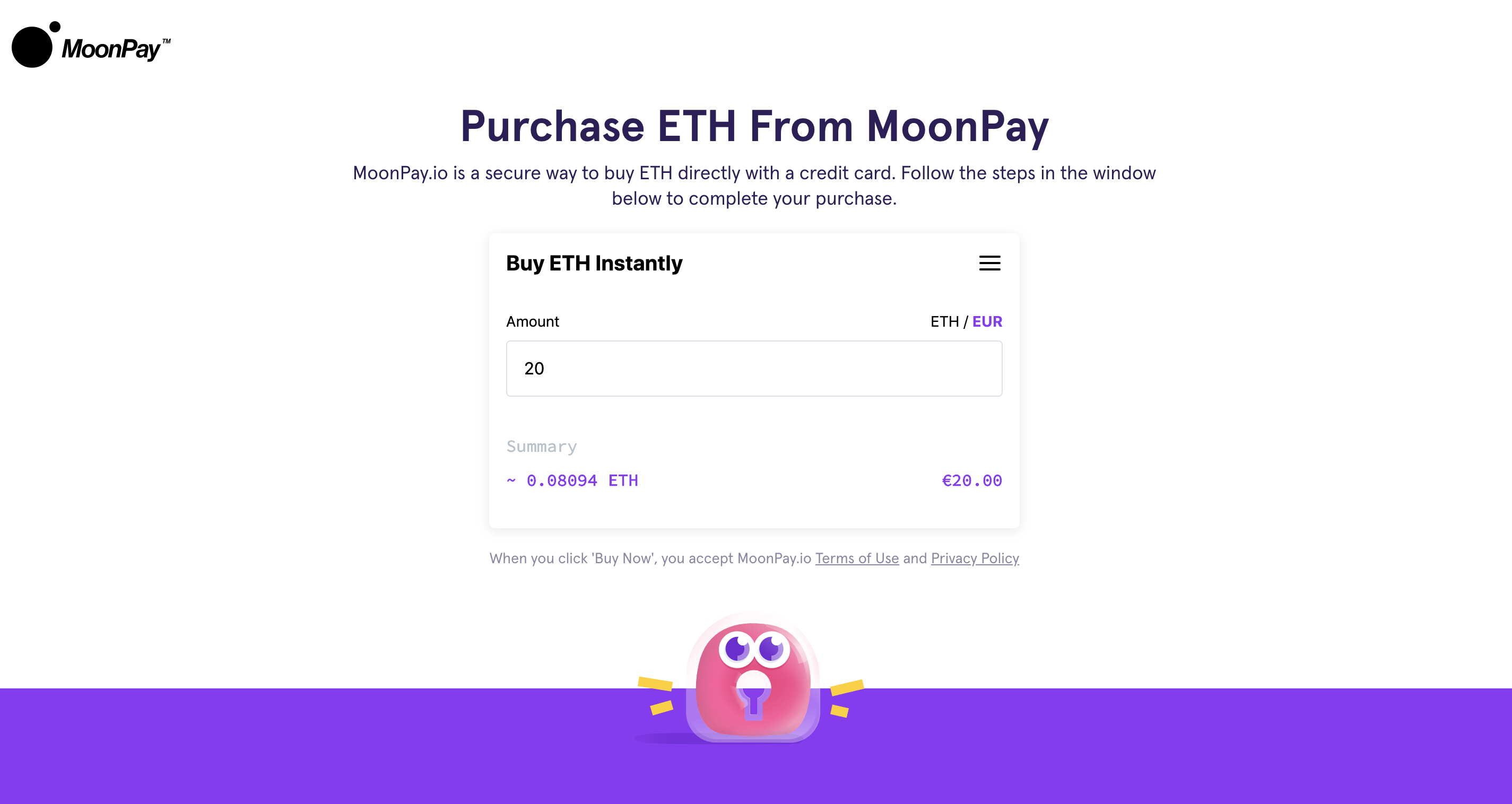 Getting ETH with Simplex
Simplex offers support to North American users and ETH can be purchased with USD. A minimum purchase of US $50 is required and Simplex charges a flat $10 service fee on all purchases up to $200 USD. For purchases of more than US $200, Simplex charges a 5% service fee. Similar to MoonPay, these are not additional fees but instead are taken from the order total.
Note: Laws governing cryptocurrencies and exchanges vary from region to region globally, and from state to state in the United States. As a result, Simplex's services may be restricted in some locations based on its policies towards cryptocurrency transactions. To find out if Simplex is available in your area, contact Simplex directly at support@simplex.com.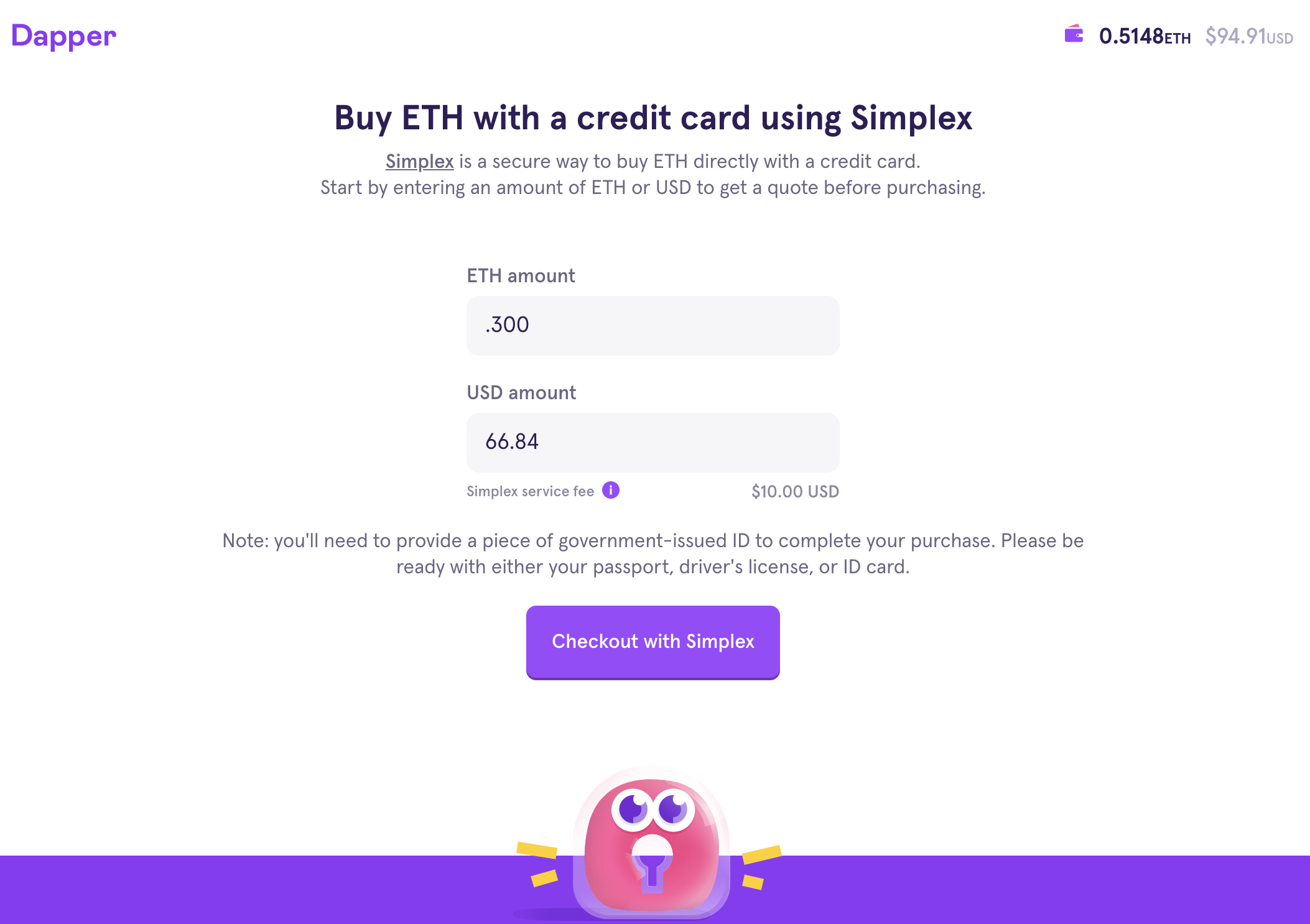 Getting ETH from friends or exchanges
Outside of MoonPay and Simplex, there are a couple of other ways to get ETH in your wallet using your Dapper wallet address. The address can be found in the top right corner of your Dapper extension. When you click the bar, your full address will be copied to your clipboard. With the address, you can give this to a friend so they may manually send you over some ETH (make sure to thank them after!) or you can connect your wallet to a cryptocurrency exchange like Coinbase, Binance, or Gemini and purchase ETH from there. For more information on how exchanges work with Dapper, you can read through our guide here.
Note: transactions sent to Dapper from other wallets or exchanges require a gas limit of at least 24,000 or else they will fail.

Where to spend ETH
Once you're wallet nice and full with ETH, now comes the fun part – spending it on games! Next, find out how to connect to dapp games.